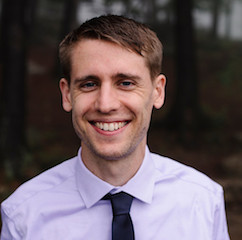 Brian Kirby, Ph.D.
bkirby57@gmail.com

brian.t.kirby4.civ@mail.mil Home | Publications | Google Scholar
---
Efficient Recurrence Quantum Entanglement Distillation for PMD Channels
Liangzhong Ruan, Brian T. Kirby, Michael Brodsky and Moe Z. Win
arXiv:1706.07464
Quantum entanglement shared by remote agents serves as a valuable resource for promising applications in distributed computing, cryptography, and sensing. However, distributing entangled states with high fidelity via fiber optic routes is challenging due to the various decoherence mechanisms in fibers. In particular, one of the primary polarization decoherence mechanism in optical fibers is polarization mode dispersion (PMD), which is the distortion of optical pulses by random birefringences in the system. Among quantum entanglement distillation (QED) algorithms proposed to mitigate decoherence, the recurrence QED algorithms require the smallest size of quantum circuits, and are most robust against severe decoherence. On the other hand, the yield of recurrence QED algorithms drops exponentially with respect to the rounds of distillation, and hence it is critical to minimize the required rounds of distillation. We present a recurrence QED algorithm, which is capable of achieving maximum fidelity in every round of distillation when each photonic qubit individually traverses a PMD-degraded channel. The attainment of optimal fidelity in every round of distillation implies that our algorithm reaches the fastest possible convergence speed and hence requires the minimum rounds of distillation. Therefore, the proposed algorithm provides an efficient method to distribute entangled states with high fidelity via optic fibers.
Entanglement enabled telescopic arrays in the presence of decoherence
S. Santra, B. T. Kirby, V. S. Malinovsky and M. Brodsky
arXiv:1705.05389
We consider quantum enhancement of direct-detection interferometric measurements to increase telescope resolution. We propose a protocol of measuring interferometric visibility function using imperfectly entangled states shared between remote telescopes. We show how errors in visibility measurement, and in turn, errors in intensity distribution of a distant object depend on the degree of entanglement of the shared quantum resource. We determine that these errors are sufficiently small over a wide range of resource states which makes our technique feasible in practical environments.
We consider entanglement swapping, a key component of quantum network operations and entanglement distribution. Pure entangled states, which are the desired input to the swapping protocol, are typically mixed by environmental interactions, causing a reduction in their degree of entanglement. Thus an understanding of entanglement swapping with partially mixed states is of importance. Here we present a general analytical solution for entanglement swapping of arbitrary two-qubit states. Our result provides a comprehensive method for analyzing entanglement swapping in quantum networks. First, we show that the concurrence of a partially mixed state is conserved when this state is swapped with a Bell state. Then, we find upper and lower bounds on the concurrence of the state resulting from entanglement swapping for various classes of input states. Finally, we determine a general relationship between the ranks of the initial states and the rank of the final state after swapping.
The use of distributed amplifiers may have some potential advantages for the transmission of quantum information through optical fibers. In addition to the quantum noise introduced by the amplifiers, entanglement between atoms in the amplifying media and the optical field corresponds to which-path information that can further reduce the coherence. Here we analyze the effects of decoherence in a phase-insensitive distributed amplifier by using perturbation theory to calculate the state of the entire system including the atomic media. For an initial coherent state, tracing over the atomic states allows the reduced density matrix of the field to be expressed as a mixture of squeezed states with a reduced spread in photon number and an increased phase uncertainty. The amplifier noise and decoherence can be interpreted as being due to entanglement with the environment rather than the amplification of vacuum fluctuation noise. In addition to providing increased insight into the effects of decoherence, these results can be applied to nonclassical superposition states such as Schrodinger cats.
Cross-phase modulation at the single-photon level has a wide variety of fundamental applications in quantum optics including the generation of macroscopic entangled states. Here we describe a practical method for producing a weak cross-phase modulation at the single-photon level using metastable xenon in a high finesse cavity. We estimate the achievable phase shift and give a brief update on the experimental progress towards its realization. A single-photon cross-phase modulation of approximately 20 milliradians is predicted by both a straightforward perturbation theory calculation and a numerical matrix diagonalization method.
The propagation of macroscopic entangled states over large distances in the presence of loss is of fundamental interest and may have practical applications as well. Here we describe two different techniques in which state discrimination can be used to violate Bell's inequality with macroscopic phase-entangled coherent states. We find that Bell's inequality can be violated by these macroscopic states over a distance of approximately 400 km in commercially-available optical fibers.
A method for performing nonlocal interferometry using phase-entangled macroscopic coherent states is described. The required entanglement can be generated using weak nonlinearities while Bell's inequality can be violated using single photons as a probe. The entanglement is relatively robust against photon loss and Bell's inequality can be violated over a relatively large distance in optical fibers despite the fact that a large number of photons are absorbed in the process.
---